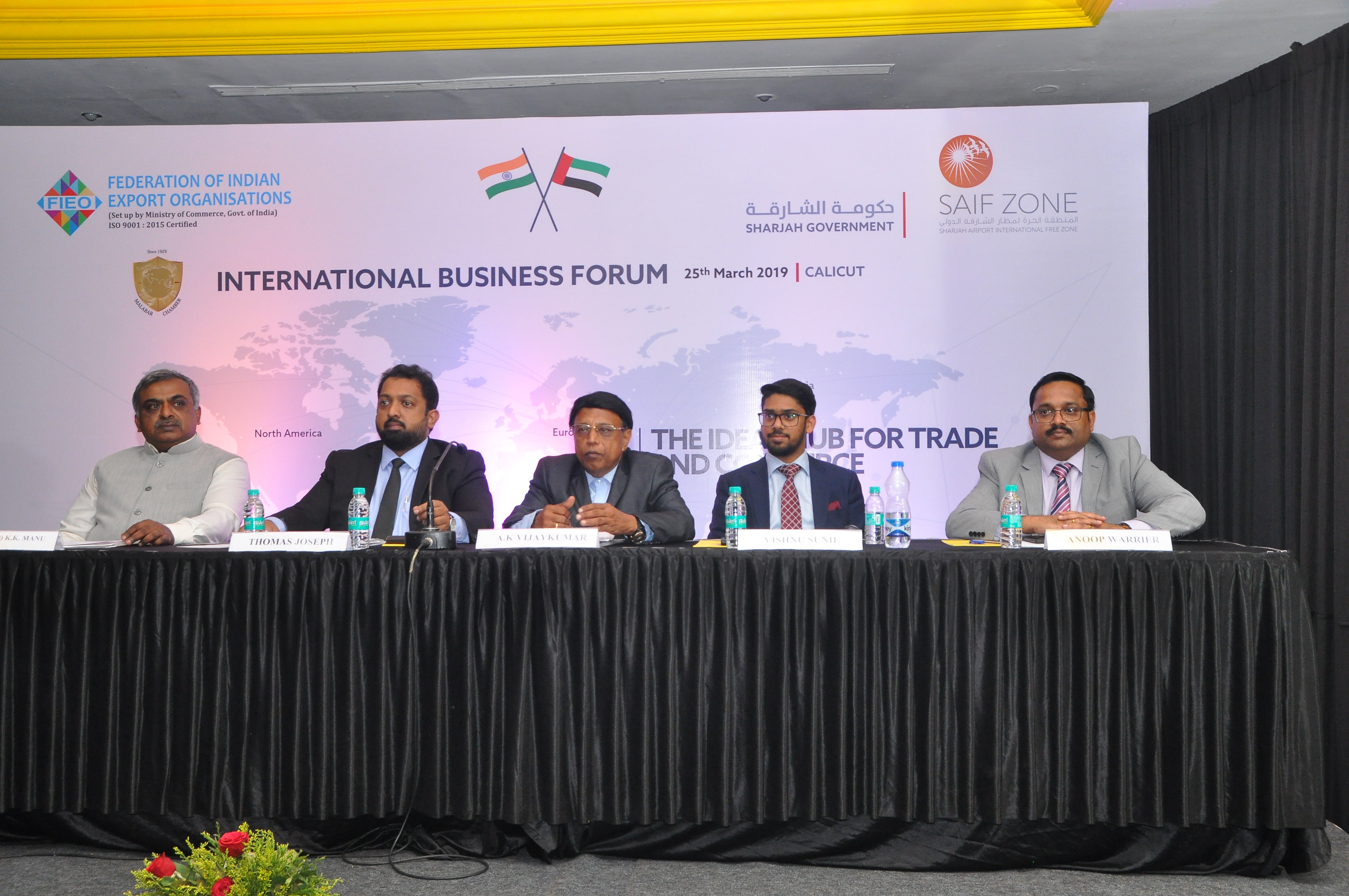 Sri. A.K. Vijayakumar of FIEO welcomed the gathering at the venue, Hotel Taj Residency, Calicut.
Lt Col K K Manu  (Retd), Hon. Secretary gave the special Address. He said that in the olden days, Calicut was almost like the Free Zones of today and free trade on large scale was carried out with Calicut.  Arabs were the early traders who came to Calicut to do trade with people of Calicut. Now the other side or vice versa is being explored and the SAIF ZONE of Sharjah is exploring business opportunities and want businessmen to establish trade and Industry at Sharjah. SAIF ZONE had also interacted with members of Malabar Chamber on previous occasions also.
Mr. Thomas Joseph of SAIF ZONE said that Ratan Tata had said that he does not take right decision. Instead he takes a decision and makes it right. It should be like that. Even if, your decision is incorrect, you have to make it right by your hard work. SAIF ZONE, you had to have a local partner with 51% investment. Now there is no necessity for a local partner. 100% foreign investment is allowed now in free zones. Registration will be given within 1 hour.
Sri Vishnu Sunil of SAIF ZONE made a power point presentation on SAIF ZONE. There are 3 seaports at Sharjah. One of the largest airports of the world is situated at Sharjah. Large volumes of cargo are being sent through the Sharjah airport.  It takes only half an hour for customs clearing of goods. There  is no customs duty. Free import is allowed and if you wish, you can import goods keep it at your shop in Sharjah and then you can export if you desire so. There is no income tax. 100% foreign sponsorship is allowed. For one whole year,rental for a shop in SAIF ZONE will only be 5500 dollars including current charges, telephone, water etc.
Sri. Rajeev of FIEO proposed the vote of thanks.