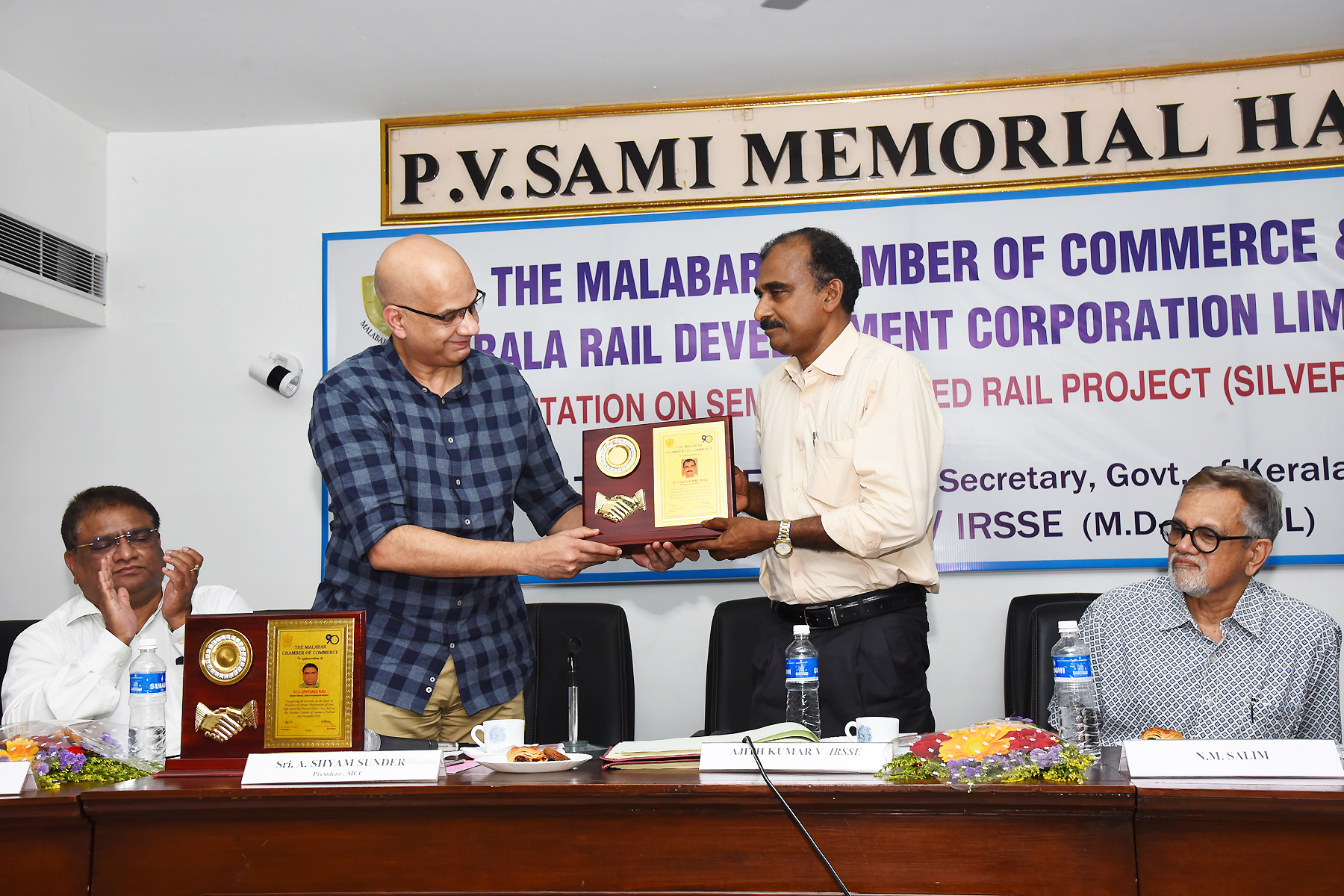 Ar. N.M. Salim welcomed the gathering.
Sri. A. Shyam Sunder, President chaired the meeting.  He said that this meeting was arranged with a short notice. Malabar Chamber will be in the forefront to see that this project is implemented and will work for the establishment of a Semi High Speed Rail extending throughout Kerala. We hopeful that this project will be implemented and will not be like other projects which lie and die in paper and are just a project for a project.
Sri. Ajith Kumar, MD of KRDCL said that the program was arranged with a very short notice and he is thankful to Ar. N.M. Salim and The Malabar Chamber. The Semi High Speed Rail can carry  you within 3 hours from Calicut to Trivandrum. Usually all Rail projects are under taken by the Central Government only. In the case of this project, Union Government has agreed to form a joint venture company with 51% share of Kerala Govt. and 49% owned  by the Union Govt. This will be a double line Rail extending from Thiruvananthapuram to Kasargod. This project will reduce road accidents and traffic congestion. People can reach destinations very quickly.
The total outlay will be Rs. 66,000 crores.  Average speed of the train will be 200 km ph. The total length of the Railway line will be 532 km. and will be a dedicated line. 1200 hectares of land will have to be acquired. Total width of the Railway line will only be 45 Mtrs. Thiruvananthapuram Airport and Nedumbasseri Airport will be connected. But since the Calicut Airport is a little further from the proposed line, it can not be connected. The number of vehicles plying on the roads are increasing day by day. The main intension of this line is to transport passengers. If possible transportation of goods will also be considered. Lot of job opportunities will be created.
1200 hectares   of land will have to be acquired and all the land owners will get compensation very quickly, unlike the other usual projects of the Government. There will be only 10 stations in the whole length and will pass through the 11 districts of Kerala. The base of this project is derived from the DPR prepared by the DMRC for the High Speed Rail. A passenger will have to be charged at least Rs.2.75 per km for the travel. The Railway Ministry will give 12%. Another 12% will be given by Kerala Government. Rest of the amount will have to be raised from loans. Estimated profit is 8%. Equity shares will be given to bidders. The final DPR of the project is being prepared and will be over by December. There will be no environmental issues.
The Airport Director of Calicut International Airport Sri. K. Sreenivasa Rao felicitated the project and the presentation.
In the open forum, Airport Director Sri. K. Sreenivasa Rao, Sri. Nityanand Kamath, Sri. Jayapal, Sri. Vijaysingh Padamshi, Er. Seethal, Sri. TPM Sajal Mohamed participated.
Memento was presented to Sri. Ajith Kumar by the Vice President Sri. K.V. Haseeb Ahamed.
Joint Secretary CA Gopakumar, proposed a vote of thanks.