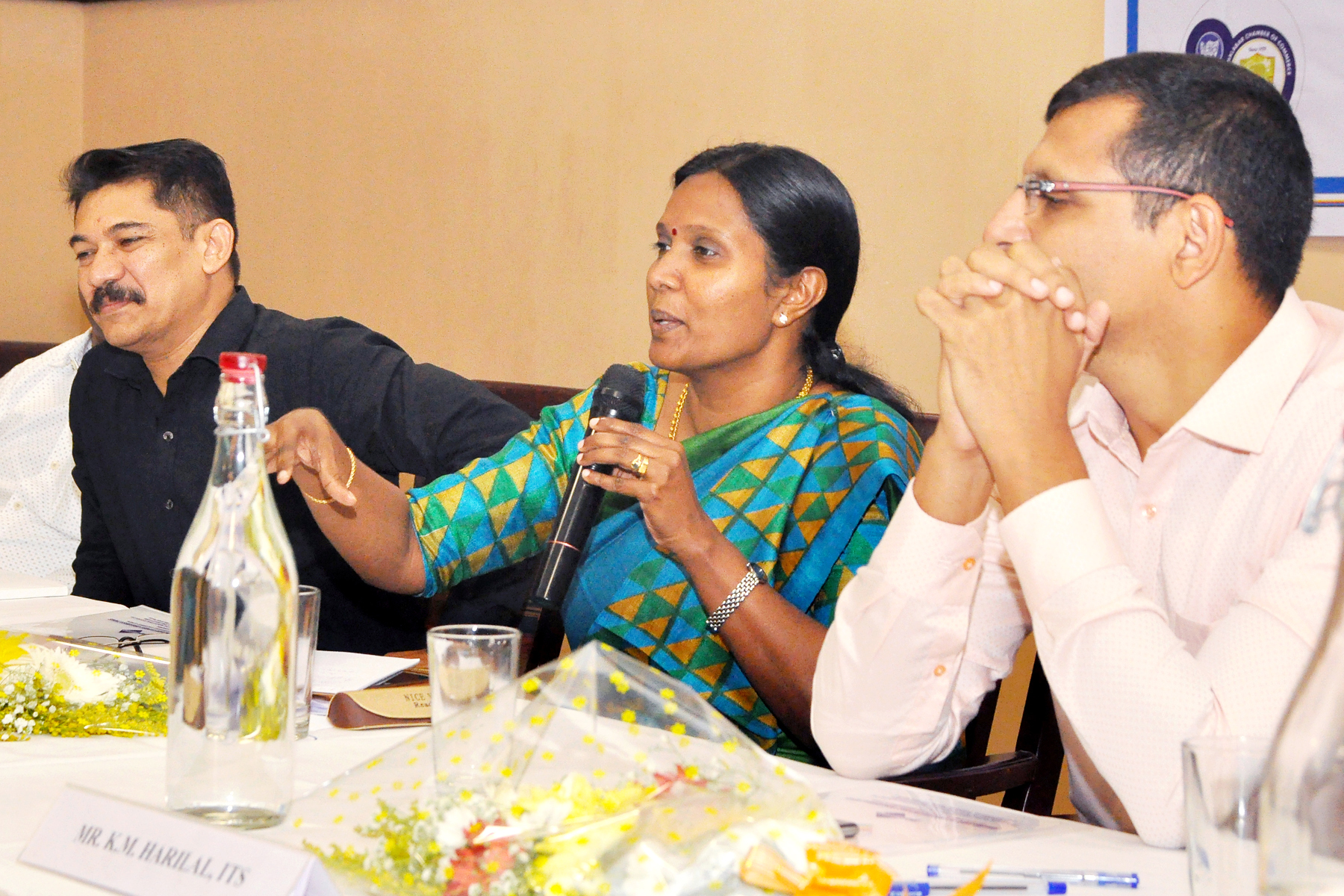 Sri. A. Shyam Sunder, President welcomed the gathering. He said that though the Exim Policy is made for a period of 5 years, periodical amendments mostly during every year are being done. Our Chamber had sent the grievances received from our member exporters and were sent to the Chairperson of Cochin Port Trust. As the Cochin Port has become almost saturated,  the Beypore Port may be developed as a feeder Port of Cochin Port.
Mr. Rajeev of FIEO in his remarks said that the exports of Kerala as a whole has grown by 1.1% this year. The total exports of Kerala is only 2.4% of India's Export.
Dr. M. Beena IAS., Chairperson of Cochin Port Trust complimented Malabar Chamber of Commerce and FIEO for taking the initiative to organize this meeting. Malabar has ben a hub for trade from time immemorial. Calicut was the capital of Malabar and the centre of trade. Enterpreneurship is strongly instilled in the blood of the citizens of Calicut and that is the reason for the progress of Calicut. There is a saying that if you give a loan to people of Malabar, it will definitely return timely. If a loan is given to a man of South Kerala, it will come back only through Revenue Recovery. All department heads and other officers connected with the exports are here. Officers of Cochin Port Trust  are here. They will give answers to your queries and help you to sort out your problems.
She said that Cochin Port was a little down previously and business had slackened. But during the last 3 years,  it is steadily picking up. The Vallarpadam container terminal is run by Dubai Port now and they are doing very many good things. Charges for transportation of goods through road is very high and hence in land water movement has to be promoted to reduce cost of transportation of goods. State Government is now promoting coastal Transportation. Cochin Port is thinking of connecting Cochin to Azhikkal and Beypore. Every Tuesday one ship is going to China with goods. Another weekly liner is going to Europe.
Sri. Mohammed Yousuf IRS., Commissioner of Customs Cochin said that he hails from a nearby place to Kozhikode. My fellow officers of the Department has come here and they will help you in sorting out the problems faced by you. Calicut is known as the Port of Truth. There is a story saying that a  foreign trader gave a jar of pickle in which there was gold embedded in it. He gave such jars to people from  all the districts of Kerala. When he came back and asked for the jar back, the gold embedded in pickle given to people hailing from the different districts was lost except that which was given to Kozhikode District. The gold kept in pickle given to Calicut citizen was intact. This is how the name city of truth was assigned to Calicut. Slackening of the economy in developed countries will lead to slackening of export from all countries. Increase recorded in exports of China is 13% while that of India is 1.8%.
Sri. K.M. Harilal ITS., Joint Director of Foreign Trade, Cochin said that for the last 30 years, India has opened up its Economy. As per the norms of the WTO, if the GDP of a country is very high, the incentives given for exporters will be comparatively less. If large quantity of fuel is used in the manufacture, a special incentive will be given by the Department. Now every filing has become online. Tata Consultancy Services have made every transaction digital. We are hopeful that export services have made every transaction digital. We are hopeful that exports of Kerala will soar to greater heights.
Mr. George Paul, Deputy General Manager of South Indian Bank Ltd. said that this is an august gathering and usually we find only very few people, say below 50 attending meetings. Here we find 100 people for this meeting. The foreign exchange value will usually fluctuate. If lot of US Dollar comes to the exchange, exchange rate will be low. If there is shortage of US Dollar, the exchange rate will be high.  In the case of forward trading, the rate will be stable until the time period is over. The 5cs considered for loans from Banks are charter, Capital, Capacity contribution and collateral.
In the open forum Sri. K.M. Hameedali, Sri. N.K. Mohamadali, Sri C.P. Kunhimohamed, Sri. Munshid, Sri. P.K. Ahamed, Mr. Sathar Pykadan, M/s. South Indian Industry, Mr. Abdurahiman of Marvel Enterprises participated.
Sri. A. Shyam Sunder, President presented  pleasantries to the dignatries.
Sri. M.A. Mehaboob, Vice President proposed the vote of thanks.