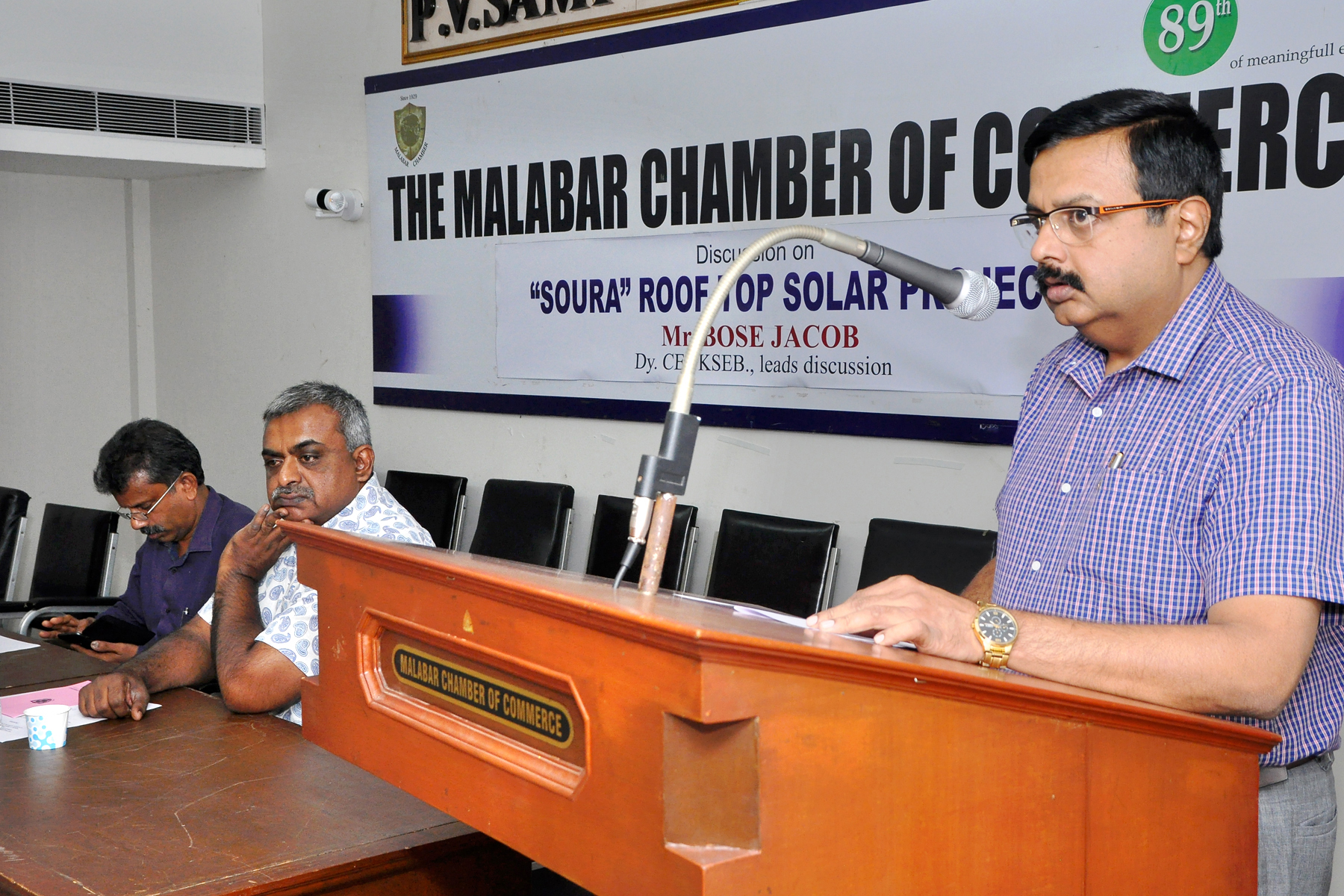 The program began with silent invocation.
Sri. A. Shyam Sunder delivered the welcome cum Presidential address. Kerala Government has launched a novel project whereby Govt. will set up Roof top Solar Energy Project free of cost and the house owner will get 10% of the energy free of cost and rest will be taken by KSEB. He is supporting the Government of Kerala for production of electricity and getting a part of electricity for his own use, free of cost.
Sri. Bose Jacob, Dy. Chief Engineer, KSEB gave a lecture on Solar Energy and the proposed roof top project 'Soura'. He and his wife had been associating with the Chamber during the 93, 94 years. Then he was transferred to Wayanad. He said that through this project, he hopes to continue the association with Malabar Chamber of Commerce. Earlier, Solar energy was very expensive. Global warming has increased largely. 65% of the emission of green house gases are from Asian Countries. In Solar energy or any of the renewable energy projects, there will be no emission of green house gases. Kerala, as a whole needs 3500 Mega watt electricity. Idukki can generate only upto 768 Mega watt electricity. In the case of solar energy electricity is produced where it is needed. In Hydro electric projects electricity produced has to be transmitted to the place where energy is needed. This is very costly. Solar energy needs larger areas. Kerala has got large number of spacious buildings, lakes etc. which can be used for generating solar energy. For generating solar energy the area should be shakeless and for steady production, steady heat is required. During the rainy season production will be very less. Hence mixed production will give optimum result. During night also there will be no generation. Energy generated during day time will be stored in battery and utilized during night time. For 1 k watt generation, Rs.50000/- will be necessary. Solar panels have a life of only 20 years. But the battery life is only 4 0r 5 years.
In the open forum Mr. S.A. Aboobacker, Mr. M. Nityanand Kamath, Mr. Balan Nair, Mr. Eswaran Namboodiri and Lt. Col K K Manu (Retd.) participated.
Few members registered the Soura Project online.
Secretary Lt Col KK Manu (Retd.) proposed the vote of thanks.
Share this entry